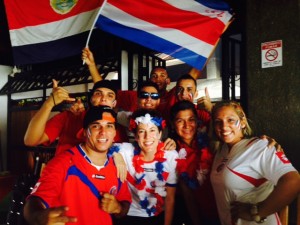 This last month, Costa Rica has been on fire with a certain fervor for futbol. Ranked by FIFA as #28 in the tournament, Costa Rica was not on anyone's radar. To the world's surprise (and Ticos delight), La Sele (the Costa Rican selection team) dominated their first round of games in Group D, commonly called the "Death Group" because of the level of difficulty and competition. First conquering Uruguay, then Italy, and lastly tying England, Costa Rica placed first in their group.
In a country that loves their futbol, we at Cafe Milagro decided to close the Manuel Antonio restaurant and roaster in Quepos during the games so the employees could enjoy cheering the team on together at other local restaurants in town. In a thrilling penalty shoot out, La Sele overtook Greece and moved on to the quarterfinals. Again, Cafe Milagro celebrated together by closing during the game and never ended up opening again that night as the entire team went down to Central Quepos in order to have fun with the rest of the country, cheering their way into the next round.
In a heartbreaking penalty shootout last Saturday, Costa Rica was stopped by the Netherlands. Their homecoming to Costa Rica this past Tuesday was warmly received by thousands waiting at Juan Santamaria Airport and a parade through the streets of San Jose. We at Cafe Milagro would like to congratulate La Sele and thank our employees for celebrating the World Cup 2014 victories with us! Todos con La Sele! Viva Costa Rica!