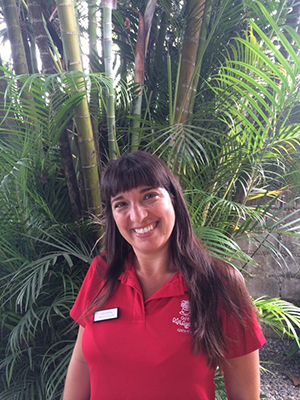 Meet Giovanna. One of our long term employees at Café Milagro has lived in the area for 20 years and worked for us for the last 8 years. She likes working for Cafe Milagro because of the flexible schedule which allows her to pursue interests outside of our restaurant. Outside of work, she is studying business administration.
At Café Milagro, Giovanna's favorite drink is our espresso shake. For those visiting the area, she recommends tourists go to Manuel Antonio National Park, a local treasure of Costa Rica and practically in our backyard!
Her favorite memory of working here was when she got to know a tourist family well as they ate many times at Cafe Milagro over their two week vacation in Manuel Antonio. At the end of their stay, they gave Giovanna 2 bottles of wine as a gift. She dreams of finishing her studies and going to Italy!
For 20 years, Cafe Milagro has offered the freshest and finest coffee and food in a vibrant environment in the heart of Manuel Antonio. Come visit us on your next Costa Rica vacation!