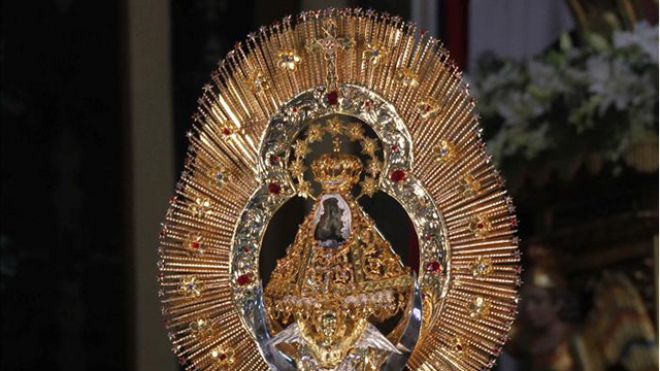 Virgin of the Angels Day is a celebration of the patron saint of Costa Rica, the Virgen de los Angeles or La Negrita. The historical holiday is observed on August 2nd each year and is considered to be a sacred religious holiday for many who live in the country.
The History of Virgin of the Angels Day
According to tradition, on August 2, 1635, a women found a small black statuette that was believed to be a representation of the Virgin Mary. When she tried to remove the statuette and take it with her, it reappeared twice in the original spot where it had been found.
Another version of the story says that the Virgin of Angels appeared to a young girl from Cartago in the form of the statue and asked the girl to build a church in her honor in the spot where she found it.
The townspeople built a shrine around the miraculous statue, and the La Negrita was declared the patron saint of Costa Rica. The shrine is located inside the Nuestra Senora de Los Angeles Basilica in Cartago, and is visited by both tourists and locals all throughout the year.
The Spiritual Journey to the Alter at the Basilica
Each year on August 2nd, thousands of individuals from all parts of Costa Rica and beyond walk from their homes and gather together to make the 22km pilgrimage from San Jose to the Basilica where they can pray and pay tribute to the patron saint. Many who partake in the ceremony complete the last few steps of the journey on their knees to show their honor and dedication. Even if you are visiting the area at the time and are unaware of the tradition, this is an event that is worth taking part in, or at the very least, observing.
Based in Costa Rica, Cafe Milagro is your direct source for premium, single origin, estate grown, micro milledcoffees.