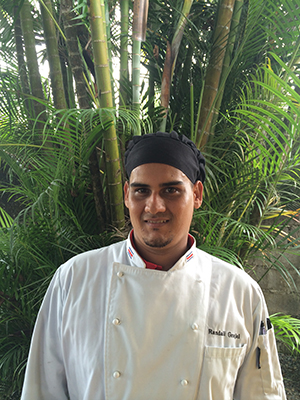 Meet Randall, one of our great team members who we wanted to profile in our team interview series! Randall has lived here in Quepos for 30 years. He says he loves working at Café Milagro as a chef as it's a very fun environment to work in; everyone is very supportive of one another and friendly. He has worked for Café Milagro for almost 2 years and loves preparing great dishes for our guests!
In his free time, he really enjoys riding horses with his son and traveling throughout Costa Rica. His favorite traditional meal (to both eat and prepare) is arroz con pollo (chicken with rice). One of his dreams is to someday finish his bachelor degree studies.
He has so many fond memories of Café Milagro and would like everyone who visits Costa Rica to come to Café Milagro for a good meal and a fun time. It is an experience that everyone should enjoy during their Costa Rica vacation.
For 20 years, Café Milagro has offered the freshest and finest coffee and food in a vibrant environment in the heart of Manuel Antonio. Come visit us on your next Costa Rica vacation!