Tarrazú Reserva Especial - WHOLE BEAN
Tarrazú Reserva Especial - WHOLE BEAN
Description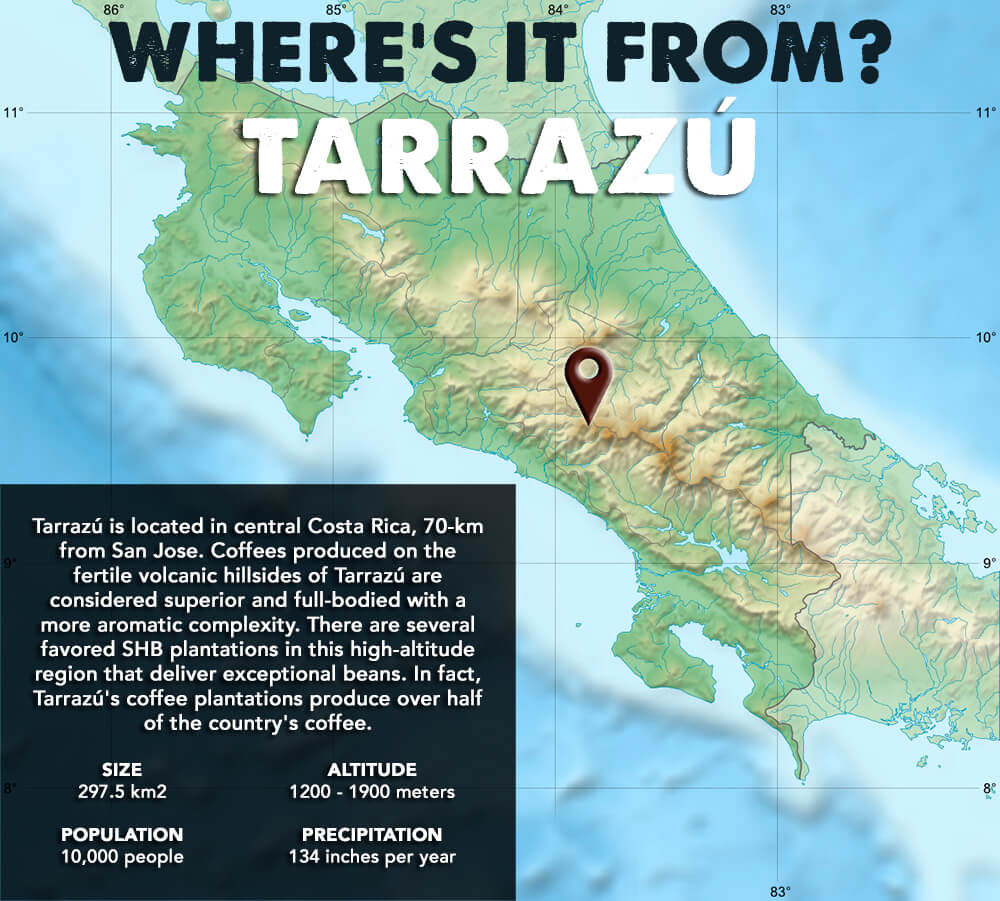 Tarrazú Reserva Especial is a coffee of unique quality and characteristics. Sourced from Costa Rica's premier coffee region, Tarrazú, this coffee is grown and micro-milled at its origin by the farmer in order to guarantee the purity of its special qualities. The plantation's elevation of approximately 6,000 feet above sea level produces SHB (Strictly Hard Bean) that possess notes of caramel and citrus. Our Tarrazú Reserva Especial, with a mild acidity, is an elegant coffee with the natural sweetness characteristic of the region.
Awards: 2nd Place Grower Cup of Excellence 2012, 3rd Place Grower Cup of Excellence 2015
Origin: Tarrazú
Roast: Full City (Medium-Dark)
Each bag of Café Milagro coffee has a net weight of 340-grams/12-ounces. Complimentary coffee scoop included with all first-time orders.
Product Reviews
Write Review
Previous | Showing reviews 5-8 of 12 | Next
Superb coffee

Posted by Positron Kebebew on 18th Apr 2017

As an Ethiopian, I am a coffee lover and drinker but quite picky.
Tarrazu Reserva is superb, all my friends always compliment me
on the coffee I serve. Cafe Milagro is my go to when I am in Manual Antonio, Costa Rica.

Delightfully rich and smooth

Posted by Sherry Preus on 7th Mar 2017

My daughter works for a coffee company in Minnesota and was chosen a few years ago to visit Costa Rica to see the farm supplying their coffee beans. She brought me back a bag of Tarrazu Reserva Especial and it has been my favorite coffee ever since! This coffee provides a very strong coffee flavor without any bitterness or unpleasant aftertaste. It is simply the best!

Great, Smooth Taste!

Posted by Chuck on 4th Sep 2016

I love Tarrazu-Reserva-especial!! I've tried several other of your products but now order this exclusively. My visitors always rave about this coffee.!!

replaced my local coffee shop!

Posted by Jason on 11th Jul 2016

First had Cafe Milagro when I visited the shop in Quepos in 2011. The Terrazu has the perfect blend of robustness and flavour--beats most coffee shops, which is why I just make my coffee at home, freshly ground, in a French press. Been buying this for years and have found no substitute!
Find Similar Products by Category