Tarrazú Reserva Especial - WHOLE BEAN
Tarrazú Reserva Especial - WHOLE BEAN
Description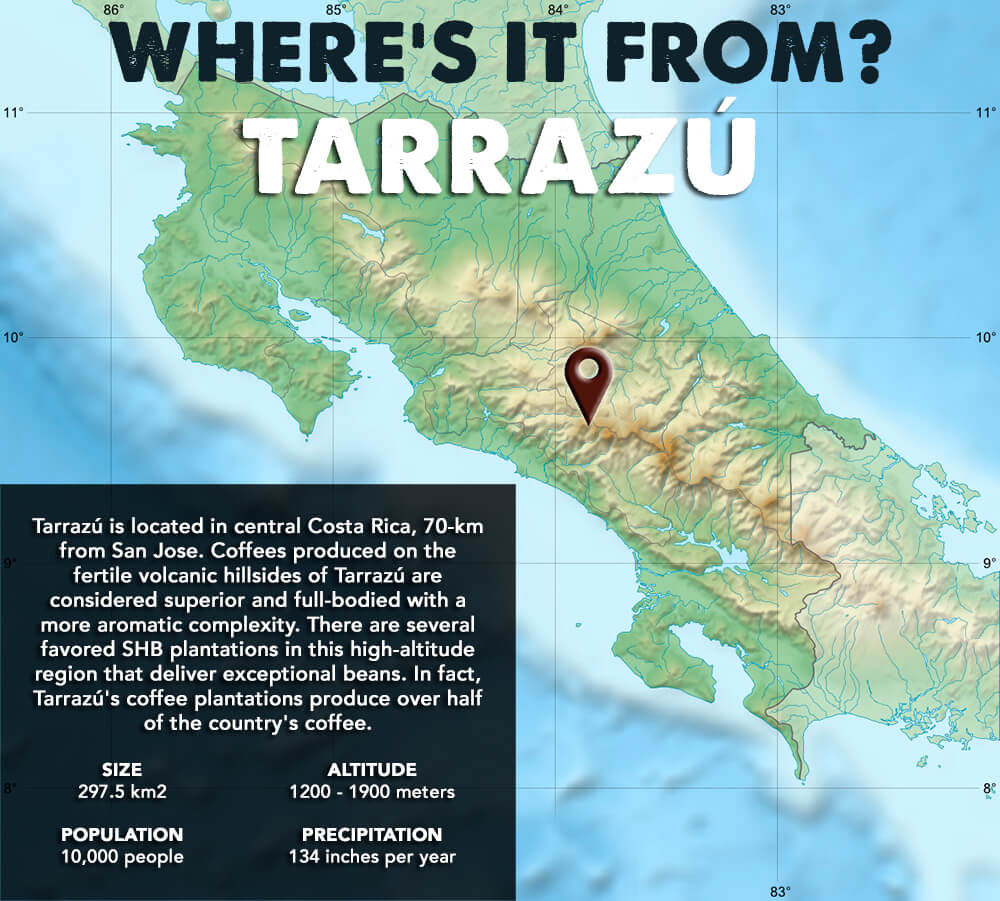 Tarrazú Reserva Especial is a coffee of unique quality and characteristics. Sourced from Costa Rica's premier coffee region, Tarrazú, this coffee is grown and micro-milled at its origin by the farmer in order to guarantee the purity of its special qualities. The plantation's elevation of approximately 6,000 feet above sea level produces SHB (Strictly Hard Bean) that possess notes of caramel and citrus. Our Tarrazú Reserva Especial, with a mild acidity, is an elegant coffee with the natural sweetness characteristic of the region.
Awards: 2nd Place Grower Cup of Excellence 2012, 3rd Place Grower Cup of Excellence 2015
Origin: Tarrazú
Roast: Full City (Medium-Dark)
Each bag of Café Milagro coffee has a net weight of 340-grams/12-ounces. Complimentary coffee scoop included with all first-time orders.
Product Reviews
Write Review
Showing reviews 1-4 of 13 | Next
favorite holiday gift of 2017

Posted by Glen on 21st Dec 2017

I really enjoy full body, low acid coffee, and this one is a new favorite. I've used the Cafe Milagro shipping service to send Tarrazú Reserva as a gift to my family and they love it. I drink cup after cup, and it's my guilty pleasure.

An explosive pleasure

Posted by Francis from Hong Kong on 8th Nov 2017

The beans are so fresh with massive aroma penetrating the whole dining room. After grinding, the powder is very sticky, actually the stickiest I have seen, implying higher moisture of the beans, hence freshness. It has firm structure with incredible depth and richness. The flavors are explosive inside our mouths and the after taste is long. It is very fruity with no bitterness, despite that the coffee I made this time was more concentrated than usual.

Superb.

Tasted in Costa Rica and ordered online this time as we really like the Tarrazu from Milagro. We believe they produce the best Costa Rican coffee. Glad that they ship to Hong Kong and they are serious about each online order. Talk to them if there is any zip code issue and they will offer help immediately.


excellent coffee and consistent

Posted by Jan on 29th Sep 2017

We love Tarrazu coffee -- can make it strong...it's never bitter nor oily. Seems to be a consistent product. The only reason we didn't give it 5 stars is because some of The Roast Master series are just the very best!!!!! So they get the 5 stars.

Ahhhmazing!

Posted by Jennifer Britt on 29th May 2017

I have been buying and drinking Tarrazu since my first visit to Cafe Milagro in 2013. I love this roast. Very smooth and robust without being bitter. It's probably my absolute all-time favorite dark roast coffee.
Showing reviews 1-4 of 13 | Next
Find Similar Products by Category