Tarrazú Reserva Especial - GROUND
Tarrazú Reserva Especial - GROUND
Description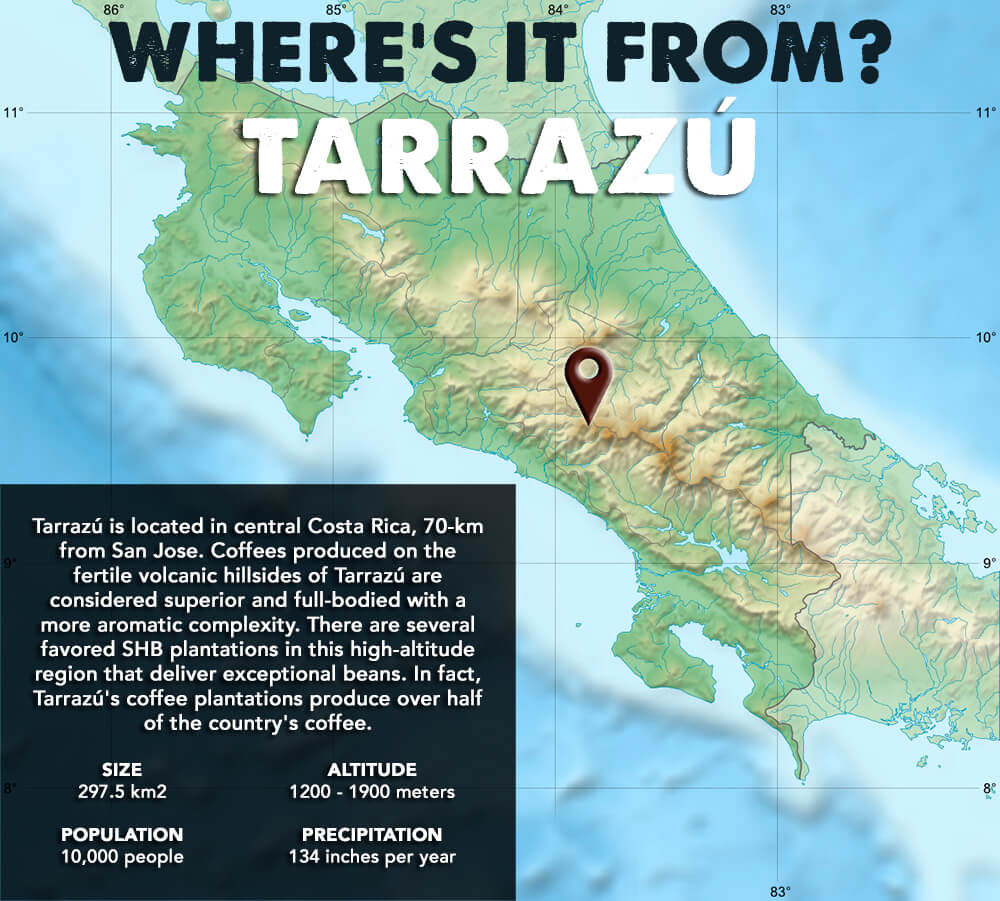 Tarrazú Reserva Especial is a coffee of unique quality and characteristics. Sourced from Costa Rica's premier coffee region, Tarrazú, this coffee is grown and micro-milled at its origin by the farmer in order to guarantee the purity of its special qualities. The plantation's elevation of approximately 6,000 feet above sea level produces SHB (Strictly Hard Bean) that possess notes of caramel and citrus. Our Tarrazú Reserva Especial, with a mild acidity, is an elegant coffee with the natural sweetness characteristic of the region.
Awards: 2nd Place Grower Cup of Excellence 2012, 3rd Place Grower Cup of Excellence 2015
Origin: Tarrazú
Roast: Full City (Medium-Dark)
Each bag of Café Milagro coffee has a net weight of 340-grams/12-ounces. Complimentary coffee scoop included with all first-time orders.
Product Reviews
Write Review
Showing reviews 1-4 of 7 | Next
DELICIOUS!

Posted by Sarah on 13th Dec 2016

Such a wonderful cup of coffee, from a truly wonderful company! Great aromas, full bodied, smooth, and full of flavor. Nothing tastes better!
Not to mention, when I received my order, there was a hand written note on the invoice that reminded me of the time I spent in Costa Rica with an amazing group of people. Thank you Café Milagro!

Had some yesterday it was awesome tasting

Posted by Bridget Batikha on 24th Jun 2013

I love the taste of this coffee!

Terrific Tarrazu

Posted by Solange Muller on 23rd Mar 2013

We were in Costa Rica in March and stopped at Cafe Milagros in Manuel Antonio to buy coffee on our way to Dominical. This one was recommended and it is the best coffee I have ever had from Costa Rica where I have lived and traveled for many many years. We stopped on our way back just to pick up bags of this coffee to give as gifts. Of course I bought a bag for my morning cup of coffee so that I am reminded every day of this fantastic country. Gracias Cafe Milagros

GOOD JOE

Posted by JUDY on 19th Oct 2012

Was happy to win this as I needed coffee. It was very good in flavor and quality. Thank you for this experience.
Showing reviews 1-4 of 7 | Next
Find Similar Products by Category